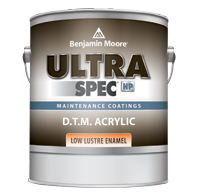 Benjamin Moore® Ultra Spec® HP DTM Acrylic
*Free Delivery*
*A representative will reach out upon purchase to confirm color*
Benjamin Moore® Ultra Spec® HP DTM Acrylic enamels 
provide excellent rust inhibition for superior corrosion control and protection for metal substrates. Ultra Spec® HP DTM's easy application and improved color retention make it a go to for commercial and professional projects. The products fast dry characteristics also contribute in helping quick turn over.  
Features Of: Benjamin Moore® Ultra Spec® HP DTM Acrylic
Direct to metal application

Improved gloss and color retention
Easy application
Provides superior rust inhibition and control
Primer and finish coat
Fast dry
Excellent adhesion
MPI: 114, 154, 164
Engineered with

 

Gennex®

 

Color Technology
Recommended For: General maintenance interior or exterior surfaces, Ferrous or non-ferrous metal, doors, railings, steel, wood, roof decks, equipment, fencing. This product is very popular for industrial or commercial properties. 
Coverage: 320 sq.ft./gal
Dry Times:
To touch: 1 hour

Recoat: 4 hours
More Information: 
Available Colors: All Colors, An assortment of Ready Mixed Whites

Sheen (or Gloss): Eggshell

Cleanup: Soap and Water

Resin Type: Acrylic Blended Latex

Recommended Use: Interior

MPI Rating: 44

VOC Level: 144.0
Primer/Finish Systems: 
Ultra Spec® HP DTM Acrylic is self-priming on properly prepared ferrous and non-ferrous metal substrates. New surfaces should be fully primed, and previously painted surfaces may be primed or spot primed as necessary.
Ferrous Metal Surfaces (Iron & Steel): Finish: 2 coats Ultra Spec® HP DTM Acrylic Non-Ferrous Metal (Galvanized & Aluminum): All new non-ferrous metal surfaces must be thoroughly cleaned with an Oil & Grease Emulsifier Corotech® V600 to remove contaminants. Finish: 1 or 2 coats Ultra Spec® HP DTM Acrylic
Masonry, Smooth Poured or Precast Concrete: Primer: Ultra Spec® Masonry Interior / Exterior 100% Acrylic Masonry Sealer (608) Finish: 1 or 2 coats Ultra Spec® HP DTM Acrylic
Masonry, Rough or Pitted: Primer: Ultra Spec® Masonry Interior/Exterior Hi-Build Block Filler (571) Finish: 1 or 2 coats Ultra Spec® HP DTM Acrylic
Plaster and Wallboard: All plaster surfaces must be thoroughly cured for at least 30 days. Drywall surfaces must be free of sanding dust. Primer: Fresh Start® Multi-Purpose Latex Primer (N023) Finish: 1 or 2 coats Ultra Spec® HP DTM Acrylic
Wood, and engineered wood products: Primer: Fresh Start® Multi-Purpose Latex Primer (N023) Finish: 1 or 2 coats Ultra Spec® HP DTM Acrylic
Bleeding Type Woods, (Redwood and Cedar): Primer: Fresh Start® Multi-Purpose Oil Based Primer (024) or 1-2 coats of Fresh Start® High-Hiding All Purpose Primer (046) may be used Finish: 1 or 2 coats Ultra Spec® HP DTM Acrylic
Application: 
Mixing of Paint: Stir thoroughly before and occasionally during use.A one-coat application protects and preserves; two coats provides greater durability. Apply with an all-purpose synthetic brush, short nap roller, or spray. Spray, Airless: Fluid Pressure — 1,500 to 2,500 PSI; .013 - .017 Orifice