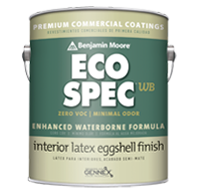 Benjamin Moore® Eco spec® Interior Latex Paint
*Free Shipping* 
Benjamin Moore® Eco spec® Interior Latex is a low odor, zero VOC, 100% acrylic  spatter resistant properties. Ideally suited for commercial, facility management, and residential applications. Eco Spec® WB Interior Latex Primer does not have the odor of conventional primers which contain ingredients known as VOC's. 
Features Of: Benjamin Moore® Eco spec® Interior Latex Paint
Stain release technology that is easy to clean with less scrubbing

Minimal Odor
Zero VOCs
Quick return to service

Excellent hide and coverage for a uniform finish

100% Acrylic
Spatter-resistant
Exhibits excellent holdout properties

Mildew resistant
Recommended for: 
Use in Hospitals, schools, and commercial areas where zero VOC and no odor is required. A good comparable product to Benjamin Moore® Natura at a lower cost. For use on primed or previously painted drywall, masonry, plaster, wood, metal and wallpapered surfaces. If a Low Odor s

olvent free primer/finish system is desired, 

Use Eco Spec® Interior Latex Primer. 
Coverage: 400-450 sq.ft./gal
Dry Times:
To touch: 1 hour

Recoat: 1-2 hours
More Information 
Available Colors: All Colors, Ready Mixed White
Sheen (or Gloss): Eggshell
Cleanup: Soap and Water
Resin Type: 100% Acrylic Latex
Recommended Use: Interior
MPI Rating: 52, 52 X-Green, 139, 139 X-Green
VOC Level: 0.0
Primer/Finish Systems:
Wood, and engineered wood products: Primer: Eco Spec® Interior Latex Primer or Fresh Start® AllPurpose Alkyd Primer. Finish: 1 or 2 coats Eco spec® Interior Latex Paint
Bleeding Woods; like Redwood or Cedar: Primer: Fresh Start® Multi-Purpose Oil Based Primer (024) or Fresh Start® High-Hiding All Purpose Primer. Finish: 1 or 2 coats Eco spec® Interior Latex Paint
Drywall: Primer: Eco Spec® Interior Latex Primer or Fresh Start® HighHiding All Purpose Primer. Finish: 1 or 2 coats Eco spec® Interior Latex Paint
Cured Plaster: Primer: Eco Spec® Interior Latex Primer (N372) or Fresh Start® HighHiding All Purpose Primer. Finish: 1 or 2 coats Eco spec® Interior Latex Paint
Rough or Pitted Masonry: Primer: Ultra Spec® Masonry Interior/Exterior Hi-Build Block Filler. Finish: 1 or 2 coats Eco spec® Interior Latex Paint
Smooth Poured or Pre-cast Concrete: Primer: Ultra Spec® Masonry Interior / Exterior 100% Acrylic Masonry Sealer or Fresh Start® Multi-Purpose Latex Primer. Finish: 1 or 2 coats Eco spec® Interior Latex Paint
Ferrous Metal (Steel and Iron): Primer: Ultra Spec® HP Acrylic Metal Primer or Super Spec HP® Alkyd Metal Primer. Finish: 1 or 2 coats Eco spec® Interior Latex Paint
Non-Ferrous Metal (Galvanized & Aluminum): All new metal surfaces must be thoroughly cleaned with Corotech® Oil & Grease Emulsifier to remove dirt. New shiny nonferrous metal surfaces that will be subject to abrasion should be dulled with very fine sandpaper or steel wool pad to help adhesion. Primer: Ultra Spec® HP Acrylic Metal Primer. Finish: 1 or 2 coats Eco spec® Interior Latex Paint
Application:
Stir thoroughly before and during use. Apply one or two coats. Eco Spec® dries faster than other acrylic paints, so avoid lap marks by maintaining a wet edge. This product can also be sprayed: Airless Pressure: 1500 -2500 psi Tip: .013 - .017