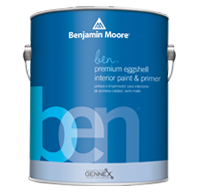 Benjamin Moore® Ben® Interior Latex Paint
*A representative will reach out upon purchase to confirm color•
Benjamin Moore® Ben® Interior Paint acrylic blended  is designed for easy application to a wide variety of interior surfaces, with a highly durable finish. Ben® Delivers a smooth finish with great touch-up characteristics, and is has a excellent flat finish for ceilings and low traffic areas. Whether you're a first time home owner, or are looking to redecorate your apartment, Benjamin Moore® Ben® is what you need. 
Features Of: Benjamin Moore® Ben® Interior Latex Paint
ZERO VOC
Low odor
Easy application
Easy touch-up
Soap & water clean up
Self-priming on most surfaces
Excellent flow and leveling
Spatter resistant
Coverage: 400-450sq.ft. per gallon
Dry Times:
Flat

To Touch: 1 hour
Recoat: 1-2 hours

Eggshell

To Touch: 2 hours
Recoat: 4 hours

Semi-Gloss

To Touch: 2 hours
Recoat: 4 hours
Recommended For: new or previously painted wallboard, masonry, and primed or previously painted plaster, wood or metal. For use on interior walls and ceilings.
Coverage: 400 – 450 Sq. Ft.
Dry Times:
To touch: 2 hours

Recoat: 4 hours
More Information: 
Available Colors: All Colors, An assortment of Ready Mixed Whites

Sheen (or Gloss): Eggshell

Cleanup: Soap and Water

Resin Type: Acrylic Blended Latex

Recommended Use: Interior

MPI Rating: 44

VOC Level: 144.0
Primer/Finish Systems
ben® Premium Interior Latex Paint is self priming on most surfaces. ben® Premium Interior Latex will act as its own primer, providing the optimal foundation for the subsequent finish coat. On bare substrates two coats are required; previously painted surfaces can be finished with 1 or 2 coats. While the high quality of our products sometimes makes one-coat coverage achievable, Benjamin Moore recommends two coats of this product to achieve full color development and to maximize paint film performance. 
Wood, and engineered wood products: Primer/Finish: 1 or 2 coats of ben® Premium Interior Latex. 
Bleeding Type Woods (Redwood and Cedar): Primer: Fresh Start® Multi-Purpose Oil Based Primer or Fresh Start High-Hiding All Purpose Primer. Finish: 1 or 2 coats of ben® Premium Interior Latex 
Drywall: Primer/Finish: 1 or 2 coats of ben® Premium Interior Latex. Plaster: Primer: Benjamin Moore® Fresh Start® Multi-Purpose Latex Primer or Fresh Start 100% High-Hiding All Purpose Primer.  Finish: 1 or 2 coats of ben® Premium Interior Latex 
Masonry; Rough or Pitted: Primer: Ultra Spec® Masonry Interior/Exterior Hi-Build Block Filler (571) Finish: 1 or 2 coats of ben® Premium Interior Latex 
Masonry; Priming Smooth Poured or Precast Concrete: Primer/Finish:: 1 or 2 coats of ben® Premium Interior Latex Eggshell (W626) Ferrous Metal: Primer: Ultra Spec® HP Acrylic Metal Primer or Super Spec HP® Alkyd Metal Primer. Finish: 1 or 2 coats of ben® Premium Interior Latex 
Non-Ferrous Metal (galvanized & aluminum): All new metal surfaces must be thoroughly cleaned with Corotech® (V600) Oil & Grease Emulsifier to remove contaminants. New shiny non-ferrous metal surfaces that will be subject to abrasion should be dulled with very fine sandpaper or a synthetic steel wool pad to promote adhesion Primer/Finish: 1 or 2 coats of ben® Premium Interior Latex Eggshell
Repaint, All Substrates: Prime bare areas with the primer recommended for the substrate above. Application Mixing of Paint: Stir thoroughly before and during use. This product can also be sprayed. Airless Pressure: 1500 -2500 psi Tip: 0.013-0.017